Episode 5 of the Little Paris Kitchen.
Episode 5 of the Little Paris Kitchen.
The aperitif is a fundamental part of Parisian living, and easily one of the easiest customs to adapt to! In episode 5 you meet some of my friends, as I try not to get apartment envy at my chef friend Benjamin Darnaud's house (you might remember him as the handsome tanned chap who can't pronounce 'yummy' in the BBC trailer), when we exchange The Little Paris Kitchen for Ben's large lofty kitchen down the road. Together, we whip up a tasty aperitif for a handful of friends. If you have been looking for some French inspiration for snacks to accompany your tipples, make sure you tune in for some neat ideas for party food.
I also head out of my little Paris kitchen to meet a rather special oyster seller in the 7 arrondissement, and I show you how to shuck your own and make a medley of condiments to accompany them. There's a quick and healthy beetroot and lentil salad on the menu and my version of the classic Sole Meunière (a great show off dinner party dish). And for those moments where only grandma's food will do, I show you how to make an Austrian family recipe of mine, chicken dumpling soup. Finally, I know there are a lot of patisserie fans out there, so I take on a bistrot classic, Iles Flottantes, puffy poached meringues with an almond praline and crème anglaise.
Bon appétit, mes amis!
Sole Meunière from The Little Paris Kitchen: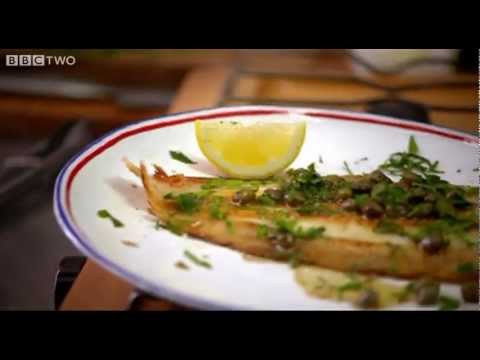 The Little Paris Kitchen episode 5 aired at 8.30 pm on BBC2 this Monday 16th April. It was repeated on BBC One at 11.30 am on Saturday 21st April.
Liked the music in episode 5 of the show? Check out the tracks below:
Tu Misterio – Gotan Project
De Hombre a Hombre – Gotan Project
Into Each life some rain must fall – Ella Fitzgerald
Quand j'etais p'tit (je vous aimais) – Charles Trenet
Back to Front (Instrumental) – Eliza Doolittle
Blister in the Sun – Nouvelle Vague
Douce France – Charles Trenet
Go Home (instrumental) – Eliza Doolittle
Si tu vois ma mere – Sidney Betchet