Episode 6 of My Little Paris Kitchen
Episode 6 of My Little Paris Kitchen
Episode 6, the final in the series, wraps up with a few French classics. I show you how to make a classic Quiche Lorraine, not a sprinkle of cheese or onion in sight. I'll be learning to make a crêpe on the street, from an expert batter spreader at a Parisian market who I offer a taster of my favourite crêpe filler, a luscious crème de marron.
Venison Wellington is on the menu as I invite some discerning diners into my little Paris kitchen restaurant for my take on the classic Beef Wellington. We also pay tribute to the Vietnamese community in Paris, which inspires my take on the classic southern French soup, soupe au pistou. And with summer finally in sight, I head to my local park armed with some light summery salads for a picnic with friends.
I hope you enjoy the last show, and if you miss it on Monday 23rd April on BBC2 at 8.30pm, and was repeated on Sunday morning on BBC1 at 11.30am.
Take a look at how to make Quiche Lorraine: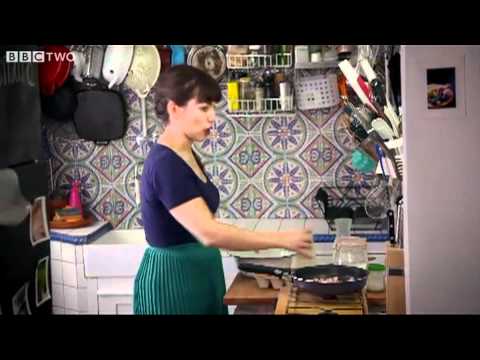 If you liked the soundtrack, check out the track listings below:
Si tu vois ma mere – Sidney Betchet
No Hay Problema – Pink Martini
Ever Fallen in Love – Nouvelle Vague
Chungas Revenge – Gotan Project
Tu Misterio – Gotan Project
La Gloria – Gotan Project
Tu Es – Mathieu Boogaerts
Shack Up – Nouvelle Vague
Into Each life some rain must fall – Ella Fitzgerald
Back to Front (Instrumental) – Eliza Doolittle
Blister in the sun – Nouvelle Vague
Douce France – Charles Trenet
Go Home (instrumental) – Eliza Doolittle
Skinny Genes (Instrumental) – Eliza Doolittle